Sports
Tokyo 2020: Dare, sports federation presidents map out victory plans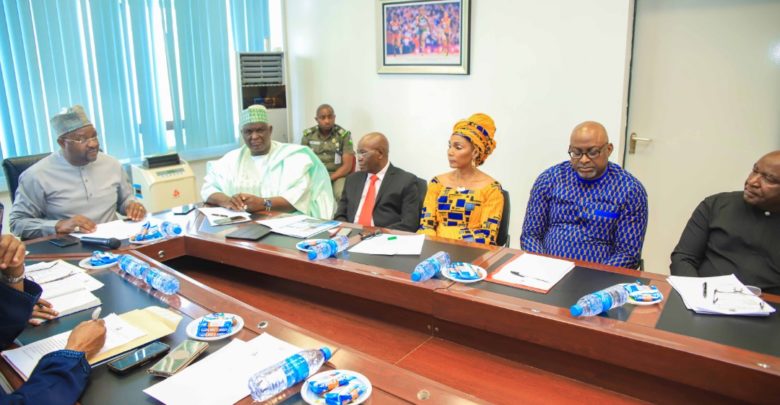 The Minister of Youth and Sports Development Mr. Sunday Dare met Thursday with the Ministerial Advisory Committee and Presidents, Sports Federations that are Tokyo bound with victory plans ahead of the games topping the agenda.
The meeting which was held at the Media centre of the National Stadium in Abuja, was aimed at preventing a repeat of the last two Olympics outings in Rio and London where Nigeria failed to shine.
While Nigeria failed outrightly to win a medal at London 2012, the country only won a bronze courtesy of football in Rio 2016.
Setting the agenda for the meeting, the Minister stressed the need for the Ministry and the Federations to maintain a common ground in order for Nigerian athletes to give Nigeria a worthy representation at the Olympics games.
"It is important we meet and have a time frame. We need to be on the same page to prepare for the Olympics. We are going to create a feedback system beyond this meeting and we going to have a similar meeting down the road yes to ensure to smooth running of Olympics."
The Minister then took briefs from the Secretary of the Ministerial Advisory Committee, the Nigeria Olympic Committee (NOC), and the Paralympic Committee of Nigeria.
Lists of athletes who have qualified for the competition and those that are yet to qualify were made known, including the mandatory sports for qualification to the international event.
Other items that were deliberated upon are; the budget allocation and accreditation processes for the games. The Minister also briefed the attendees on the stages of mobilization of funds and sponsorship for the event.
It would be recalled that at the last Olympics, only one bronze medal was recorded in football and none from athletes. This the Minister said has necessitated a timely meeting of Federations and continuous feedbacks to put plans in place for a better outing at the Tokyo Olympics.