News
Ukraine war: Germany urges Putin to return to negotiation table as Zelensky's soldiers record more success in counter-offensive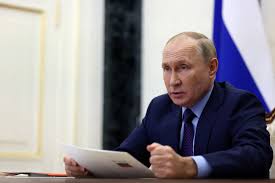 By George Aluo, with agency reports
Germany has advised Russia president, Putin to withdraw his troops from Ukraine and return to the negotiation table.
While Germany is calling for a ceasefire, Ukraine continued to make solid gains in her counter-offensive.
BBC's latest reports show that Zelensky's soldiers are now closing in on the Donbas region having retaken over 6000 kilometers of Ukraine's territory previously held by Russia.
According to BBC, Ukrainian officials say they are targeting towns in the eastern Donbas region after making a series of gains in a rapid counter-offensive.
In recent days Ukraine's army reclaimed swathes of occupied territory, forcing Russian troops to retreat.
President Volodymyr Zelensky said his forces were fortifying their hold over 8,000 sq km (3,088 sq miles) of retaken territory in the Kharkiv region.
While the fight continues to rage, German Chancellor Olaf Scholz urged Russian President Vladimir Putin to re-enter negotiations with Ukraine as soon as possible during a 90-minute phone call on Tuesday.
A German government readout of the call said Mr Scholz urged Mr Putin "to find a diplomatic solution as soon as possible, based on a ceasefire, a complete withdrawal of Russian troops and respect for the territorial integrity and sovereignty of Ukraine".
This is even as US President Joe Biden said Ukraine had made "significant" gains.
Mr Biden said it was "clear" that the advance had enjoyed success, but cautioned that the offensive "could be a long haul".