News
Ukraine war: Russian soldiers are only regrouping, Kremlin declares over lost grounds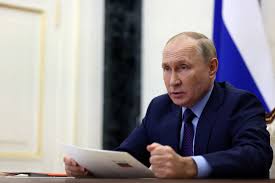 By George Aluo, with agency reports
Russia has dismissed the gains being made by Ukraine at the moment as only a temporary setback in the raging war.
BBC quoted Kremlin as saying that Russian troops are only regrouping a situation that informed the success recorded by Ukraine in her counter offensive.
According to BBC reports, Kremlin has admitted that its forces have moved out of some eastern towns, but refused to call it a retreat, instead insisting that its forces are regrouping.
On Monday, Moscow insisted that it would press on with its invasion "until all the goals that were originally set are achieved".
As if to prove this point, Russia yesterday launched missiles in the home city of President Zelensy.
The Russian missiles hit a reservoir dam near the southern Ukrainian city of Kryvyi Rih, officials say.
Residents in some areas were told to evacuate, city head Oleksandr Vilkul said, but he added the situation was under control.
Ukraine said the strike was revenge by Russia for its recent counter-attack.
President Volodymyr Zelensky – who was born in the city – described Russia as a "terrorist state" after the attack on the Karachunivske reservoir.