News
Ukraine war: Putin blows hot, orders call up of 300,000 reservists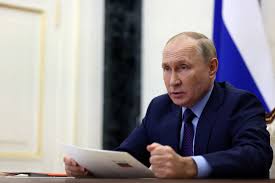 President Putin says military reservists are to be sent to Ukraine as part of a partial mobilisation of Russian forces.
BBC reports that the embattled Russian leader in a televised address to the nation said this was a necessary step to ensure Russian territorial integrity.
Putin's minister of defence, Sergey Shoigu, later said 300,000 reservists will be mobilised, even as he said students won't be called up.
Putin in his address accused the West of wanting to see Russia weakened and said a threat to retaliate further was "not a bluff".
Meanwhile, Western nations have condemned Moscow's plans to hold so-called referendums in parts of Ukraine that are currently under Russian control.
The US, Germany and France have said they would never recognise the results of such "sham" ballots.