News
Ukraine war: Russia remains ruthless, hits market in Donetsk with missiles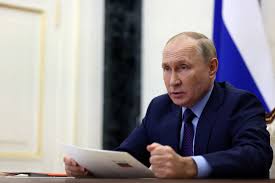 By George Aluo, with agency reports 
Russia has continued to fire deadly missiles into Ukraine with the latest of such strikes hitting a market in Donetsk region.
BBC reports that at least seven people were reported killed in an attack on a market in the eastern town of Avdiivka.
Donetsk regional military head Pavlo Kyrylenko said the strike in the Ukrainian-controlled town took place at a busy time, adding that at least eight others were injured.
Russia has equally gone haywire arresting those suspected to have had a hand in the bombing of the bridge that links Crimea with Russia.
According to Russian authorities eight people have been detained  in connection with Saturday's explosion on a key bridge linking Russia to Crimea.
Its FSB security service said five of those held were Russians, while the others were Ukrainian and Armenian.
It says Kyiv was behind the attack but a Ukrainian official described Russia's investigation as "nonsense".