Entertainment
Ultimate Love: MiCherry, IykeResa, ObiEbi, PreshDavid and Chivia make nomination list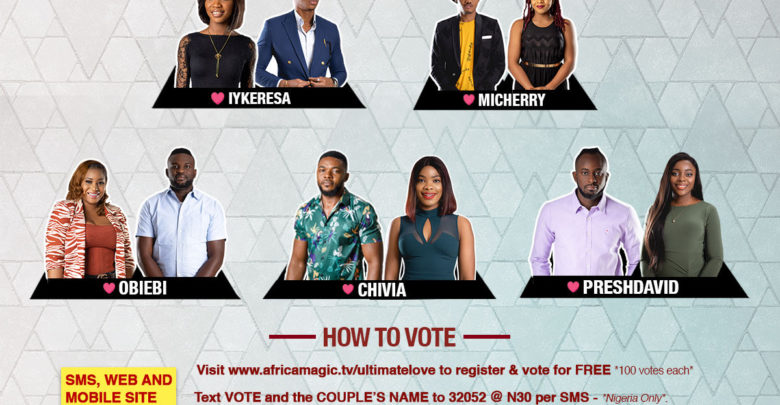 The Ultimate love show will be officially checking out its first couple from the Love Pad next week Sunday as five couples – MiCherry, IykeResa, ObiEbi, PreshDavid and Chivia – were confirmed on the nomination list on Tuesday night.
During last Sunday's live show, the Love Guests were asked to nominate two couples they would like to put up for possible check-out this coming Sunday. The nomination process resulted in a total of SIX couples selected: Chivia, Jeriton, PreshDavid, ObiEbi, IykeResa and MiCherry.
However, two of the six couples nominated, Chivia and Jeriton, were given a chance to remain in the Love Pad by going on a Couples' Mission on Monday as directed by Aunty. After this mission, Aunty decided to save Jeriton, a move which automatically takes them off the nomination list whilst the duo of Chiddy Bankz and Sylvia aka Chivia remain on. On her reason for saving Jeriton, Aunty explained that she saw the two work with better synergy during their mission and thus she decided to give them one more week in her Love Pad.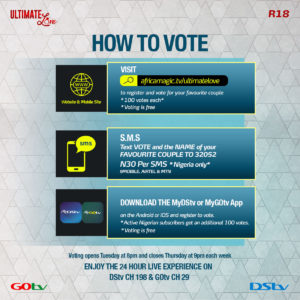 Voting for this week is officially open! Ultimate Love fans have until 9pm on Thursday, 27th February to keep their favourite Love guests in the Love Pad.
Voting can be done via the Africa Magic website – https://africamagic.dstv.com/show/ultimate-love/vote and the MyDStv and MyGOtv Apps. Also, viewers in Nigeria on participating networks 9Mobile, Airtel & MTN can vote for their favourite couple by sending 'VOTE' and the 'love couple name' to '32052'.
Ultimate Love is live 24/7 on DStv Premium, DStv Compact Plus, DStv Compact, DStv Confam and DStv Yanga packages on channel 198; and on GOtv Max and GOtv Jolli packages on channel 29.