Sports
Umuohiagu, Umuowa All Stars friendly match ends 1-1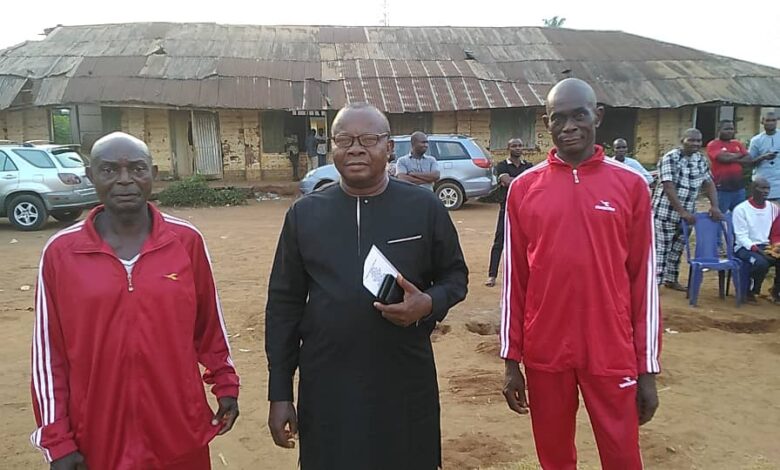 By Athan Agbakwuru, Owerri
It a moment of excitement, entertainment and joyful reunion as
Umuohiagu All Stars FC and Umuowa All Stars FC slogged it out  today Monday 4th January, 2021 Ina friendly soccer encounter played at the Umuohiagu Central School playground.
The ended on a 1-1 draw with Umuohiagu team opened scoring in the 25th minute of the match via a kick from Rev. Fr. Levi Nkwocha while Umuowa equalized in the second half of the match through a shot by Nnamdi Amadi in the 20th minute of play..
The match which commenced at exactly
4pm
was formally kicked off by Agu Victor Metu(Koko) as a galaxy of old and young soccer Stars from Umuohiagu,  Umuowa and other neighbouring communities.
Both sides missed several scoring chances as the two teams made frantic efforts to increase the tally just as the centre referee, Nelson Goodluck ensured fair officiating during the play.
Umuohiagu All Stars FC who played were; Modestus Okereafor, Alli Atuebgueme(Capt), Rev. Fr. Levi, Emeka Ogbuibe, Cyril Nwogu, Diala Kingsley, Chikodi Opara(Boboh), Emeka Emeh, Oliver Ekeh, Romanus Okere, John Okoro, Eto David, Jude Nnodim and Prince Chike Agube.
All Stars of Umuowa players were; Rev. Fr. Eustace Okere(Capt), Sir Emma Okereafor, Ephraim Okere, James Osuji, Patrick Okereafor, John Amag, Nnamdi Amadi , Chidi Amadi, Ezeocha Nze, Sir Sunny Ndukwu, Henry Basil, Reginald Ekeh, Benjamin Nwaorgu, Jasper Prosper, Kelechi Kaduru, Uche Okereafocha, Nich Anaemeje, Wisdom Onyeukwu, Kingsley Ogu and Raphael Uchechukwu.
Umuohiagu coaching crew included:  Ngozi Festus Njoku, Tony Okere, Lawrence Obikara(medical) while Coaching Crew- Cornelius Okere(Ikemba) handled the microphone as the commentator.
Mr James Osuji of Umuowa All Stars FC, 60yrs of age was the oldest player and was awarded the most valuable player of the match and was honoured at the end of the game by other players.