News
Uzodimma: Evidence abounds there is God in Imo State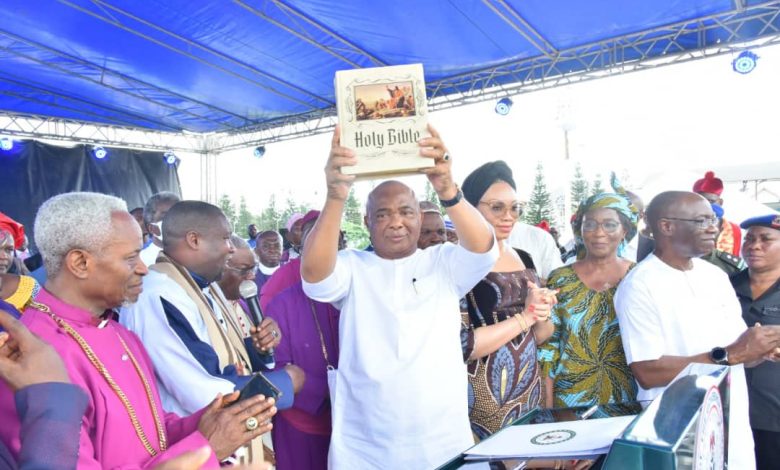 Governor Hope Uzodimma has said evidence abounds everywhere to show that God is in Imo State.
The Governor spoke on Tuesday at the Ndubuisi Kanu Square in Owerri on the occasion of the second edition of 'Imo Unity Prayer and Praise Convention' organised by the Christian Association of Nigeria (CAN) Imo State Chapter.
The theme of this year's event is "Oh God Our Help in Ages Past" (Ps 46:1).
In his remarks at the end of the prayer and praise session that attracted believers from different Christian denominations – Catholics, Anglicans, Methodists, Presbyterians, Pentecostals among others, Governor Uzodimma said God has remained faithful and gracious to Imo State hence the prayer and praise session is appropriate.
Governor Uzodimma said: "God has been there for us.  In good times and in challenging times, he is always there. There is evidence everywhere to show that Almighty God is in Imo State."
The Governor said  Imo has remained in God's hands despite challenges confronting her.
His words: "We were challenged but we didn't go retaliating. We put our knees on the ground. We prayed and God answered us."
Governor Uzodimma who assured the Church of his government's partnership
said his is a God fearing government.
He added that as long as one is God fearing one will be his friend, brother or sister.
Governor Uzodimma thanked God for the wisdom given to Christian Association of Nigeria (CAN) Imo State Chapter to organize the event at a time it is needed most.
He recalled that in the last two years Imo State has been enveloped in fear as a result of high level of criminality, because we came together, prayed and glorified God, He in His infinite mercy rescued the State from the hands of the devil.
The Governor said he acknowledges what the Holy Book says that "prayer is the key whenever and wherever you find yourself in time of agony, sorrow, humiliation and celebration."
He therefore encouraged Imo people to continue to pray and thank God "for he hears our prayers."
Governor Uzodimma also thanked the leaders of other Church groups who joined CAN in the prayer session, particularly for the various prayers they offered for the people and the State.
He said their continous prayers at a time in Imo State all hope was almost lost and people almost gave up hope, made the difference. "But to the Glory of God, "Imo Prayed and God Answered Us."
He used the opportunity to encourage Imo people not to give in or lose hope because "God has taken over the battle, so we have every reason to glorify God. Today Imo State is free."
"There is nothing God cannot do  and there is nothing hidden under the earth or below the heavens that God doesn't know about, therefore it behoves on all of us to continue to serve God and humanity, especially by being fair to our neighbours. We have no other person to take care of our problems other than God Almighty."
Waxing spiritual Governor Uzodimma said: "I will continue to look unto God as I have no business with Satan, with letting blood, with those who kill because they are looking for power, with those who want to punish innocent human beings because they are looking for power. Power belongs to God. Satan will do all it will do, but my Government and people of Imo State will tell Satan to go its way. In God We Trust."
Earlier in his remarks,  the Chairman CAN Imo State Chapter, Rev Dr. Eches Divine Eches acknowledged that "Governor Uzodimma has brought peace, unity and development through his giant strides in infrastructural development in Imo State."
Highlights of the programme were the presentation of a Holy Bible and prayers for the Governor, family and government of Imo State by the Southern CAN Chairman, Bishop Maxwell C. Korie.
Those who accompanied the Governor to the prayer session were his wife,  Barr. Mrs. Chioma Uzodimma, the Deputy Governor, Prof. Placid Njoku and his wife, Dr. Mrs. Bola Njoku, the Speaker Imo State House of Assembly, Barr. Kennedy Ibe represented by the Majority Leader, Hon Kanayo Onyemechi, the Secretary to the Government of Imo State, Chief Cosmas Iwu, the Chief of Staff to the Governor, Barr. Nnamdi Anyaehie and other members of the expanded Exco among others.