News
Uzodinma reads riot act to detractors on maiden broadcast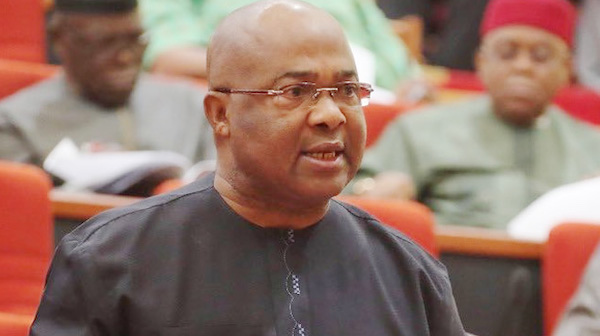 From Athan Agbakwuru, Owerri
Imo State Senator Hope Uzodinma has warmed trouble makers to desist from acts and utterances capable of fueling crises in the state saying his administration would not tolerate any act of recklessness that could threaten public peace and development of the State.The newly inaugurated governor who read the riot act yesterday in his maiden broadcast to the people of Imo State however assured that his administration would maintain an open door to accommodate everyone including political opponents who are willing to work for the good of the state.
He noted that those encouraging breach of public peace would be made to face the full weight of the law no matter how highly placed such sponsors may be.
His words, "Let me make it clear that while our doors are wide open to accommodate everyone, including my political opponents, and while we insist on enduring peace and reconciliation, we shall not brood any reckless breach of the laws of the land.
"Those encouraging or sponsoring any breach of public peace should desist forthwith or face the full wrath of the law. Make no mistake about it, I have a responsibility to govern Imo State and to maintain the peace therefrom. In the discharge of these duties I shall not hesitate to bring the full weight of the law on anybody, no matter how highly placed, who constitutes himself or herself into a public nuisance. I also advise law abiding people of our beloved state to resist attempts to be used for selfish reasons by desperate politicians.
"We know those behind these incitements; who are sowing seeds of discord to divide our state. I appeal to them to have a rethink and remember that power comes from God and that even more importantly, no election is the end of elections but rather the confirmation that more elections are ahead. So the losers today can be the winners tomorrow and next tomorrow."
Governor Uzodimma who thanked Imolites for their support urged them not to lose sight of the fact that "it is time for us to harp on the things that unite us not on the things that divide us."
Going down memory lane, he added, "I recall clearly that on the eve of the elections, our people were determined to ensure that no one imposed a political dynasty on them. It was the collective desire of all Imo people to see to it that our democracy was preserved in all its true tenets, to wit, government of the people for the people and by the people. As the arrowhead in that battle, Imo people voted massively for me. This fact should not be lost on anybody.
"Today, through your votes we have succeeded in disabling that obnoxious structure and dangerous ambition. Regardless, I appeal to you therefore to avail me of your total support to bring the valiant mission of a New Imo State to its logical conclusion. I count very much on your support and cooperation."
On his agenda for building a "New Imo, Senator Uzodinma said, "I assure you of my commitment, totally and unreservedly, to your wellbeing and security and to acquaint you with my vision for a new Imo State where equality and the rule of law shall reign supreme.
"I urge every true man, woman and youth of Imo State to put the past behind us, without throwing away the lessons learnt, as we forge ahead in the great task of building a New Imo State defined by the common will of the people, in which equity, justice, freedom, and rule of law prevail over impunity and executive recklessness. This is the essence of good governance and it is my firm belief that democracy without good governance is nothing but a mirage.
"I believe that every man, woman, youth and child of Imo State is a stakeholder in my vision of a New Imo State. I therefore invite all of you to join me as partners in this new vision of a New Imo State for all Imo people, where everyone is recognized and respected as an Imo person, not on the basis of creed, gender or origin but because of his or her inalienable right as an Imo son or daughter. I strongly believe that our concept of governance which derives power from the people shall leverage your collective support as partners to deliver the great dividends of democracy and good governance to our people.
"My good people of Imo State, my vision of a New Imo State is predicated on freedom, security, and shared prosperity welded into good governance. The evidence on ground indicates that Imo State requires fundamental reform to forge a new trajectory."