Sports
WBF title bout: Boxing fans plan big for Ridwan Scorpion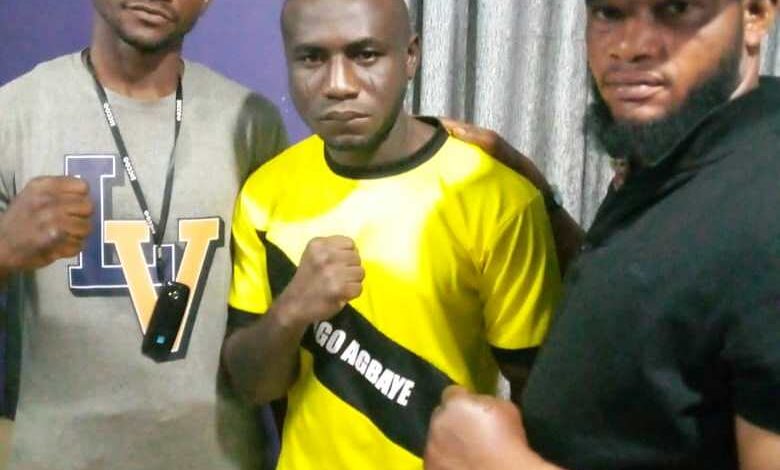 Photo: All for WBF title bout success; Chairman of Scorpion Fans Club, Raifu Hakeem popularly known as Shypon (right), Ridwan Scorpion Oyekola and Owoseni Mutiu.  
From Olanrewaju Agiri, Ibadan
Towards ensuring that Nigerian fighter, Ridwan Scorpion Oyekola, records victory during the World Boxing Federation (WBF) International Super Featherweight title bout scheduled for December 27th in Ibadan, fans of the boxer who will be facing Jose Ramos Tornado Savin from Spain have unveiled plans to massively support him.
A group of boxing enthusiasts under the auspices of 'Ridwan Scorpion Fans Club' were going the extra mile by contributing resources to support the training and buildup of the Ibadan-born boxer towards ensuring he is in good shape to face the Spaniard.
The Chairman of Scorpion Fans Club, Raifu Hakeem who spoke with newsmen in Ibadan described the bout as an epic one that cannot be toyed with, saying not all things can't  be left for the government and the promoter alone, and that is why they resolved to support the boxer in whatever way they could.
"We came together about 4 years ago to form this group, so that we can be supporting our own fighter 'Scorpion' in an organized manner. Love boxing very well and we have been contributing money to help Ridwan in our own little way".
"There is a plan to mobilize fans in large numbers to the venue of the fight (Ilaji Sports Resort) and I can assure you that Ridwan Scorpion will defeat the Spaniard on knockout to win the WBF belt for Nigeria. We're also organizing a prayer session too", said the boxing fan that is popularly known as Shypon.
Meanwhile the promoter of the bout, Core Afrique Boxing Promotion, Sola Ayodele, the CEO of the firm has also assured that the belt will soon arrive Nigeria ahead of the epic bout as all hands are on desk to ensure there are no hitches.