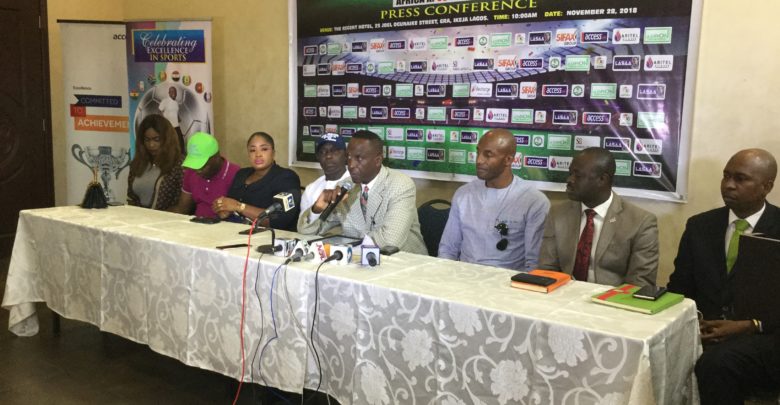 By George Aluo
Ex internationals from Nigeria and other African countries would early next year light up Lagos in an exhibition game, ostensibly being put together to say "thank you" to Governor Akinwumi Ambode for supporting sports during his tenure.
The game being put together by The Match International an outfit that is being promoted by some Nigerian ex internationals would hold at the new Onikan Stadium on March 15, 2019.
Speaking yesterday in Lagos, Waidi Akanni who is at the center of the event said the match is being packaged as a way of saying a big thank you to a Governor who has done well for sports on all fronts.
"Governor Ambode did not just support football. He supported anything sports including the so called lesser sports. He supported ex internationals and he has laid a solid foundation for sports in Lagos by providing the needed infrastructure. Ambode has succeeded in upgrading the Agege Stadium as well as the stadiums in Epe and other parts of Lagos. Under him, Lagos hosted an avalanche of international sporting events such as the IAAF sanctioned Lagos City marathon, Lagos International Squash championship, Lagos International table tennis championship just to mention a few. And the game where we intend to honor him would be the brand new Onikan Stadium which would meet FIFA standards when completed early next year."
Samson Siasia on his part noted that the lot of the nation's ex internationals would have been different if other people in public office had the Ambode touch.
"We have in Ambode a governor with a difference. He is one governor that recognized what we have done for the country," Siasia said.
Ivorian soccer legend Didier Drogba sent in a representative at yesterday's media parley in Lagos, even as the organizers disclosed that Liberian President, George Weah, Sulley Muntari, Kolo Toure and Micheal Essien are some of the stars billed to be part of the match has been tagged the battle of Africa X1 vs Naija Legends.