Sports
Williams, Solomon set national record, win Jos Cross Country race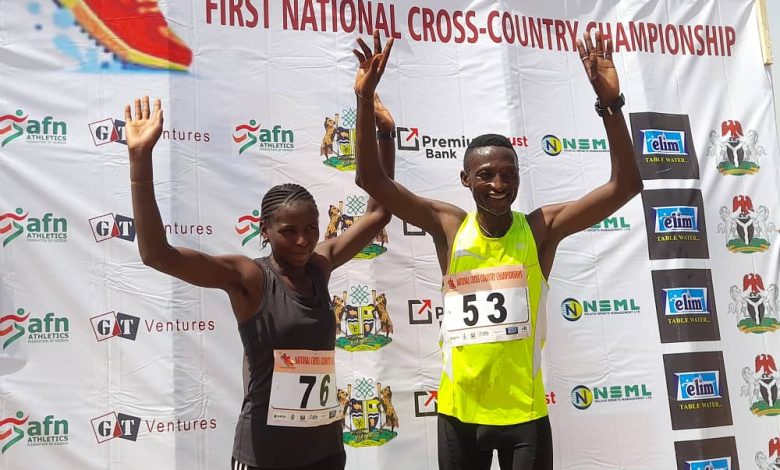 Plateau state runners, Kefas Williams and Blessing Shambor Solomon, have emerged the winners of the first ever Cross Country competition in Nigeria, the Jos Cross Country, sponsored by Nilayo Sports Management Limited.
Kefas, won the men's race at 31:38:38 to win the cash prize of N300,000.
In second place was Stephen Joshua, who crossed the line at 31: 28: 30 and got N200,000 for his efforts.
While in third place was Emmanuel Gyang who finished at 32:01:27 01:27 seconds to win N100,000.
The men's race was so competitive such that the finishers from first to 6th position were all Nigerian elite athletes.
The likes of pre-event favourites; Paul James Pam (32:39:08), Solomon Nyango (33:19:69), James Gyang Gwon ( 33:25:93), Simon Markus (33:26:10), Nyango Gyang (33:31:49) and Iliya Pam 33:39:69 all ran 33 minutes.
Iliya Pam, earlier tipped to win the race said he was hindered by an injury sustained at the Access Bank Lagos City Marathon.
In the women's category, a shocking result was recorded as highly rated Debora Pam, was beaten to second place by Blessing Shambor Solomon.
Pam, led the field for four lapses out of five, only to be overtaken by Solomon in the fifth lap. The Plateau state athlete didn't look back to cross the finish line at 38: 36:12 seconds. She got N300,000 for her effort.
Pam, who finished at 38: 47:37 seconds blamed fatigue from road travel from Lagos as hindrance. She got N200,000.
In third place was Grace Dalum, who finished at 39:10:91 seconds and got a cash prize of N100,000.
Winners from the 4th to the 10th positions all got cash prizes from the sponsors, Nilayo Sports Management Limited. A total N2million cash prizes was shared among the winners.
The Zonal Coordinator, North Central in the Sports Ministry, Mrs. Deborah Pitman represented the Honourable Minister of Sports at the event.
All the Elite runners that participated in the Jos Cross Country race together with the event's Coordinator, Chief Tony Osheku, commended the Managing Director of Nilayo Sports Management Limited, Chief Bukola Olopade, for sponsoring the Jos Cross Country competition, which has opened the eyes of the Athletics Federation of Nigeria, and indeed the Sports Ministry to host a championship that would benefit the fortunes of Nigeria long distance runners in international races.