News
Be law-abiding, Consul General tells Nigerians in South Africa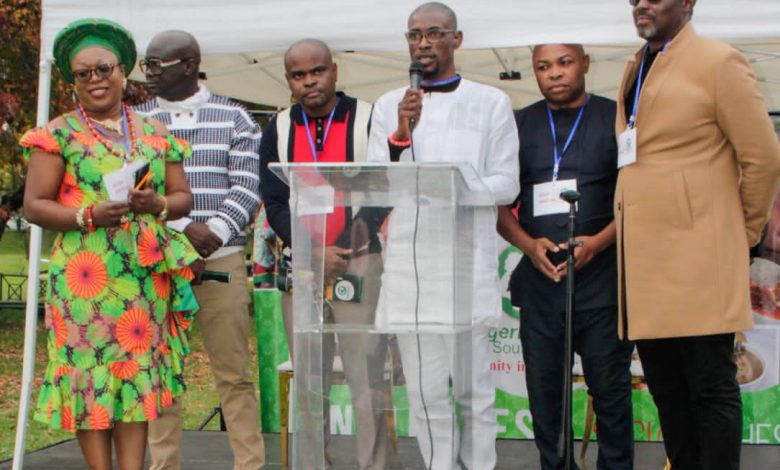 Photo: From left: Mrs Doris Solarin, Vice-President; Mr. Trust Owoyele, Treasurer; Mr. Peter Ananaba, Financial Secretary; Mr Collins Mgbo , President, NUSA, Dr. Victor Amodu, Assistant Organising Secretary, and Mr. Olaniyi Abodele, Chairman NUSA Gauteng May 27, 2023 in Pretoria, South Africa.
By Peter Ejiofor
Mr Andrew Idi, Consul General of Nigeria to South Africa, has advised Nigerians in that country to continue to live according to the laws of the Republic as they were Nigeria's ambassadors there.
Idi gave the advice, according to a statement from the Nigeria Union South Africa (NUSA) on Tuesday in Lagos, as they, in the quest for peaceful co-existence with their hosts and other foreign nationals, held their maiden cultural festival, tagged "Naija-Fest''.
Naija-Fest, held on May 27, under the auspices of Nigeria Union South Africa (NUSA) was to create a platform where social cohesion between Nigerians living in South Africa, other foreign nationals and the host community, would chart a way forward for peaceful coexistence, fight against crime, collaboration in business, education and arts.
Idi, represented at the event, commended the efforts of the NUSA President, Collins Mgbo and the executive committee at large for organising such a laudable programme meant to create a conducive environment for social cohesion.
He also thanked South Africans for being good hosts even though there were challenges which both Nigerians and South Africans were facing in the Republic.  
The statement said Mgbo, noted that the occasion afforded participants the opportunity for introspection, to point out where as a migrant community they went wrong and how to redirect their steps towards a better future in South Africa.
"We are here also to point out how we have been wronged, victimised, prejudiced etc… by the host community and how those anomalies can be corrected in the future for the purpose of progressive individual communities and the society at large.
"We are here to give a listening ear to our lovely host, South Africa to express or tell the migrant community in general, and the Nigeria community in particular, how they have been offended by the activities of some foreign nationals and Nigerians.
"Thirdly, one of the major reasons for the event besides the cultural exhibition is to collate our concerns and structure a way forward as to how to deal with the concerns raised going forward, and that is why the Police, Nigerian Mission, Africa Diaspora Forum, the Media, Department of International Relations and Cooperation (DIRCO) and different community leaders here today," he said.

Mgbo noted that Naija-Fest which coincided with African Month 2023 was somewhat deliberate, saying that African Month was celebrated on May 25 in commemoration of the formation of the Organisation of Africa Unity (OAU) in 1963 by 32 Heads independent African States in Addis Ababa, Ethiopia, by different organisations and institutions across South Africa and Africa.
He said that Africans would not achieve meaningful peace for progress in all spheres if first, they could not love each other at grassroots level and recognise first and foremost that they were humans and then Africans.
Different Nigerian culinary and dressing cultures were also on display.