News
Census Critical For Development, Says Gov. Diri, Inaugurates Committees On 2023 Headcount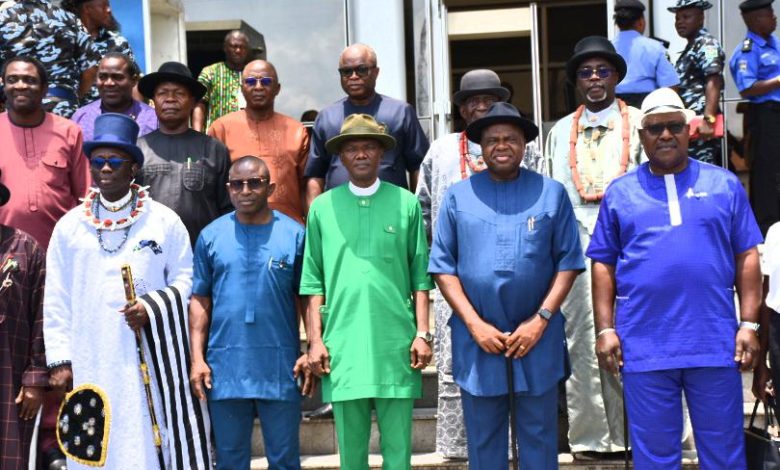 Governor of Bayelsa State, Senator Douye Diri, on Wednesday, inaugurated two committees to synergise with the National Population Commission (NPC) on the forthcoming national population census exercise.
They are the Publicity/Mobilisation Committee, which has the Secretary to the State Government, Alabo Gideon Ekeuwei, as chairman and the Logistics/Security Committee with the Chief Security Co-ordinator of the State Community Safety Corps, Brig-Gen. Eric Angaye (rtd) as chairman.
Governor Diri, who inaugurated the committees in Government House, Yenagoa, described population census as a critical ingredient for development hence the need for the government to plan towards a hitch-free exercise in the state.
The governor said while a new date is expected from the NPC for the conduct of the exercise, the government would leave no stone unturned to get the exact population of the state.
His words: "It is important that we know exactly who we are and how many we are. In modern times, accurate population figures is a critical ingredient for development. Even in our homes, it would be shameful for a father not to know the number of children he has. Therefore, population census is one activity that will continue as long as there is life.
"We are gathered to inaugurate two committees in respect of the forthcoming population census in our country, which was initially slated for March 29. We need to put our house in order while we await the federal government and its agency, the NPC, to come up with a new date.
"These committees are to work hand in gloves with the National Population Commission and all those who will be here to implement the federal government population policy across the country and in particular our state."
Other members of the Publicity/Mobilization Committee are the Commissioners for Finance, Budget and Economic Planning, Youth and Sports, Information, Orientation and Strategy, and their Women, Children and Social Development counterpart.
Also in the committee are the Commissioners for Local Government, Community Development and Chieftaincy Affairs, Special Duties for the three senatorial districts as well as the chairman of the Traditional Rulers Council and the Chief Historian and Archivist.
The committee on Logistics/Security also has the Commissioners for Transport, Special Duties (East, West and Central senatorial districts), and the Special Advisers on Security Matters.
Also in the committee are the Bayelsa State Commissioner of Police, Commander, 16 Brigade of the Nigerian Army and the Commander, Nigeria Naval Ship (NNS) Soroh.
Others are the State Director, Department of State Services, all Police Area Commanders, Divisional Police Officers and all Heads of Local Government.
Responding on behalf of the committees, the Secretary to the State Government, Alabo Ekeuwei, pledged their support, commitment and cooperation in ensuring that the census exercise in the stated was properly conducted.