News
Dabiri-Erewa, others to speak at US alumni webinar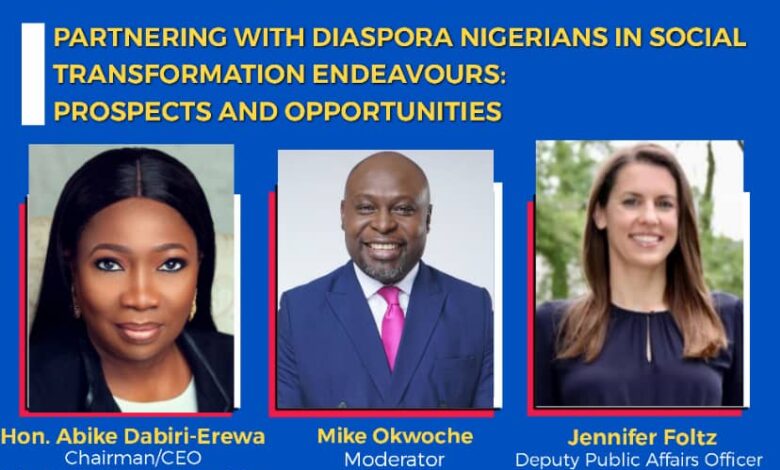 By Adeze Ojukwu
United States government Exchanges Alumni Association(USEGEAA) has concluded plans for its fifth leadership webinar, on  exploring international partnerships for  socio-economic acceleration in the country.
 The virtual discourse,  billed for
Thursday June 17
is tagged:'Partnering with Diaspora Nigerians in social transformation endeavours: prospects and opportunities.'
The guest of honour, Hon. Abike Dabiri-Erewa, Chairman of Nigerians in Diaspora Commission, will deliver the main address at the forum.
 Ms. Jennifer Foltz, Deputy Public Affairs Officer, US Consulate and other eminent professionals will also attend the international confab.
This was contained in a statement signed by Mrs Adeze Ojukwu, a Hubert Humphrey Fellow and  Media coordinator of the USGEAA.
Ojukwu said 'the association is an umbrella body of all US-sponsored scholarships, fellowships and trainings in Nigeria.'
'Such exchange programmes include Fulbright Scholarship, Hubert Humphrey Fellowship, WomenTech and International Visitors' Leadership Program(IVLP).'
USGEAA President, Dr Jude Ememe said 'the lecture was  organized  to seek partnerships with foreign-based nationals, as well as reputable organizations, interested in actualizing its targets and  leadership blueprint.'
'Primarily, this event is aimed at fostering synergies among USGEAA members and Nigerians in Diaspora.'
 'Such collaborations will also create more avenues for the various programme associations and fellows  to extend the frontiers of their  various  social enterprises and contributions to society,' he added.
The statement reads: 'Dabiri-Erewa attended Maryland Private School, Maryland, Ikeja for her primary school education, and St. Teresa's College, Ibadan for her secondary education. She obtained her first degree in English Language from the University of Ife (now Obafemi Awolowo University, OAU) Ile – Ife.'
'She obtained a post graduate diploma (PGD) in mass communication and also a master's degree in mass communication from the University of Lagos, Akoka. She also studied in the United States at Harvard University's John F. Kennedy School of Government.'
Dr. Ememe, a former CEO of defunct ACB International Bank, has over 25 years of finance and investment banking, also stressed that 'thousands of members of the organization, comprising distinguished academics, social entrepreneurs, accomplished technocrats and prominent public sector professionals, as well as, diplomats and other eminent personalities, are expected at the programme.'
As a seasoned development, with a PhD in Leadership and Organizational Change from Walden University, US and a fellow of the prestigious, Hubert Humphrey Fellowship, the USGEAA president stressed the need to integrate international trainings in the educational system.
Ememe, who is also a lecturer in the Executive MBA programme at the University of Lagos, said the programme will explore strategies towards harnessing the huge potentials among young citizens and members.
As a manager of Joy Bringers Foundation, a prison-focussed NGO, with supervisory responsibilities for Full Gospel operations in North and West Africa, he expressed optimism that the parley, will be highly beneficial to participants and the society.
Also speaking, the group's Secretary General and an alumna of Young African Leaders Initiative(YALI), Tinuola Aina, said the theme is 'germane and critical to the progress of society.'
 Hon Dabiri-Erewa, accordimg to her, was chosen to lead this parley because of her impeccable antecedents,  diplomatic skills  and commitment to development.
'Mike Okwoche will moderate the event, that promises to be highly engaging and stimulating.'