Entertainment
Doublechris,Jaykech, Obiebi and Iykeresa make final nomination list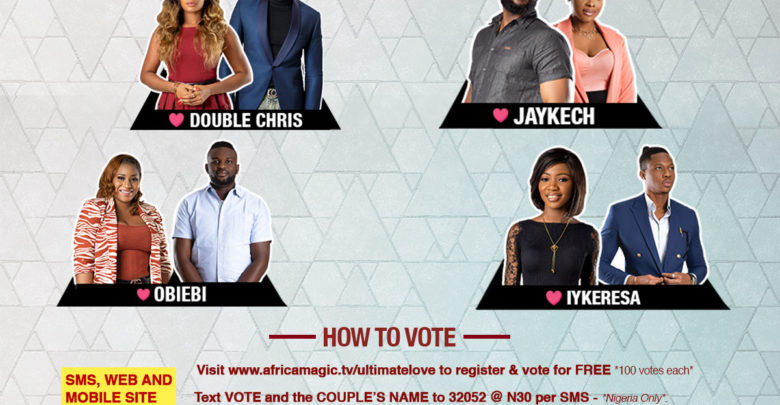 This week's Monday mission was about communication and teamwork.
The couples, IYKERESA and BOLAR were both assigned a wall space at a school and had to work together to beautify it but there was a plot twist; the females, Bolanle and Theresa were taught the artful skill of painting by a professional painter and had to pass that knowledge unto their partners Iyke and Arnold to complete the task.
On Tuesday evening, the Love Guests made their way to the living room to await Aunty's decision, as they have all become accustomed to her Tuesday pickings. She selected BOLAR to continue their love journey in the Love Pad because she felt they needed a break from being chosen three times in a row whist IYKERESA remained on the final nomination list alongside DOUBLECHRIS, JAYKECH and OBIEBI.
As we countdown to the Sunday, 22nd March Live Show, the viewers will get a chance to vote for the couple they would like to see remain in the Love Pad.
Voting opened 8pm WAT Tuesday 17 March and will close 10pm WAT Thursday, 19 March. Voting can be done via the Africa Magic website – https://africamagic.dstv.com/show/ultimate-love/vote and the MyDStv and MyGOtv Apps where a total of 100 votes are available. Also, viewers in Nigeria on participating networks 9Mobile, Airtel & MTN can vote for their favourite couple by sending 'VOTE' and the 'couple's name' to '32052'.
Ultimate Love is live 24/7 on DStv Premium, DStv Compact Plus, DStv Compact, DStv Confam and DStv Yanga packages on channel 198; and on GOtv Max and GOtv Jolli packages on channel 29.
For more information on the show, visit www.africamagic.tv/ultimatelove and follow the social media updates on @ultimateloveng on Twitter, Instagram and Facebook using the hashtag #UltimateLoveNg.