Politics
Emir of Lafia Bags Defender of Democracy Award, Hosts NCISGBS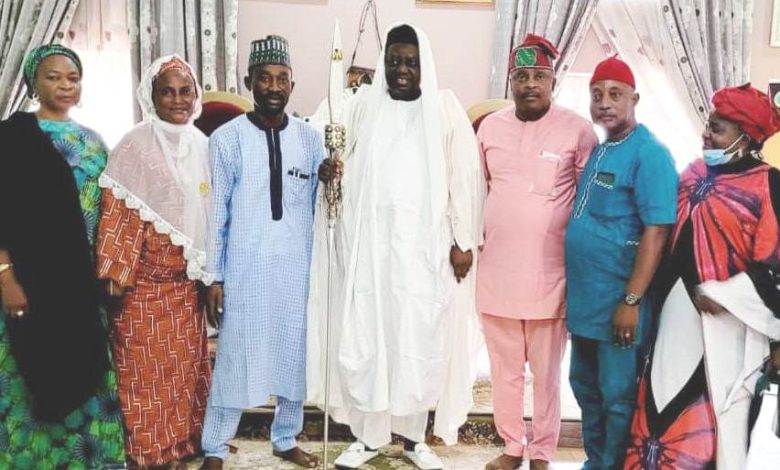 The Emir of Lafia and Chairman Nasarawa State Traditional Council, HRH Justice Sidi Bage Muhammad 1 (rtd) has received a recognition honour as 'Defender of Democracy' while hosing the leadership of the National Coalition of Independent Support Groups for BAT and Shettima (NCISGBS) in his palace on Wednesday.
The national executives of NCISGBS led by its President General, Hon. Abubakar Abdullahi and the Secretary General, Hon Wale Fasade in their bid to round off the group's Independent Campaign programmes for the 2023 presidential election visited the palace of the respected traditional ruler in Lafia, Nasarawa State to receive Royal blessings on behalf of their principals, Senators Bola Ahmed Tinubu and Kashim Shettima.
The visitation however witnessed the presentation of 'Defender of Democracy Award' and a letter of appointment as a Patron to Royal Father who was formerly the Justice of the Supreme Court of Nigeria by the President General of NCISGBS.
In his response, His Royal Highness, Hon. Justice Sidi Bage Muhammad 1 couldn't hide his happiness and acceptance of the whole gestures as he promised to stand by the group in all her activities henceforth, assuring them of his unflinching support.
"I accept this Award of Defender of Democracy because we truly worked with other Justices to enthrone this present democratic order in Nigeria by not supporting the Military to remain in power", said the Emir of Lafia.
The first-class traditional ruler who gave his royal blessings to the aspirations of the Senators Bola Ahmed Tinubu and Kashim Shettima also said he's open to all candidates as a father to all, while expressing his delight to host the energetic team of NCISGBS in his palace.