Sports
Monarch Promotions to thrill Lagosians with rhythm of boxing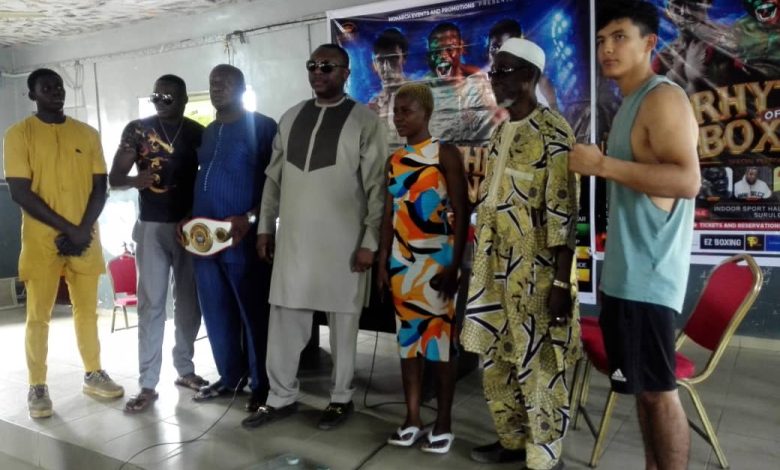 By Ifeanyi Eduzor
Boxing fans in Lagos State and it's environs will tomorrow Saturday, September, 24, 2022 be treated to the best of professional boxing as the leading boxing promotion company in the country ( Monarch Promotions) stage the biggest boxing show in recent times.
The fight which is slated for the Indoor Sports Hall of the National Stadium, Surulere, Lagos and tagged "Rythm of Boxing" will see Kazakhstan Balmolda Tenysan fighting for the first time in Africa while Nigerian Ezra Arenyeka will be having his fifth professional fight and the first under Monarch Promotions since signing for the boxing promotion outfit.
Other boxers listed to enlighten the day are; Onitsha, Anambra State based boxer, Victor Beneth whose first professional fight at Gotv Boxing night in Ibadan, the Oyo State Capital ended in a draw as well as Kazeem Samson, Azeez Tijani, Basil Ezekwe and female sensational fighter, Adijat Gbadamosi
Others are Shade Adeyanju, Tunde Azeez, Gbenga Samson, Bathlomey Abuchi, Jude Iloh and fighting Police man, Prince Lion Leo Nwoye.
Speaking on the fight, Chief Executive Officer of Monarch Promotions, Prince Stanley Williams described the fight
as the beginning of new things to happen to professional boxing in the country noting that his company is out to change the narratives of the sports even as he assured that it will be lightened up with music, entertainments and other side attractions.
" Monarch Promotions is known all over the world for quality boxing promotions and that's what we want to bring to Nigeria. When we promoted some fights here in the past, we received a lot of commendations and we want to build on those successes as we intend to change the face of professional boxing in the country.
" Saturday's event is a loaded event that will be spiced with music and entertainment. We're doing this because we realised that Nigerians are used to comedy and music and we're bringing in musicians like Slimcase, Cprince, B. Tone and Jum Abel to entertain the fans and so it's going to be more than one event.
"The night will be fully loaded and we expect our prospective young champions to be at their best. A boxer like Balmoda who is one of the youth champions in his country will be showcasing Kazakhstan style of Boxing while Ezra Arenyeka, the Nigerian King will be at his best. We also have Adijat Gbadamosi who is actually good in female boxing and fighters like Jude Iloh will also be in his best to make the whole show interesting", he said.
Prince Williams while assuring adequate security for boxing fans appealed to corporate Nigeria to invest in the sports and help boxers achieve their full potentials in the game.
"I want to assure fans that their safety is guaranteed because in all our fights, we ensure adequate security of our venues and good medical facilities for our fighters and we're not going to compromise on that.
" It's equally important I appeal to corporate organisations to invest in professional boxing because promoting fights is very expensive. The need for corporate support even becomes more important bearing in mind that we have many talented boxers here who need encouragement and financial support to succeed and we at Monarch will continue to do our best in moving the sports forward.
Also speaking Kazakhstan boxer, Balmoda who confessed falling in.love with the atmosphere and hospitality in the country said that he prepared for three months for the fight and will give a good account of himself not minding whom his opponent would be.
"I'm happy to be here and I love the people and the atmosphere.I prepared for three months for this fight and am going to give my best.
"Although I don't know anything about my opponent but am sure to win either by technical knockout or through split decision", he sounded confidently.
Victor Beneth in his remarks said he is going to define what boxing is even as he thanked Monarch Promotions for signing him as one of their fighters.
" I'm fully prepared for action and don't care who my opponent will be. All I want to tell my fans is that I will define boxing in the ring. I expect my opponent to be ready because am ready since at Monarch we're truly champions.
" I must also commend Prince Williams who is like a father to me for believing in my capabilities and signing me on and I promise not to disappoint him", he stressed.
While speaking on his preparedness for the fight, Ezra Arenyeka stated that he's fully prepared for the challenge assuring fans that he'll be at his best just as he joined calls for more corporate involvement in professional boxing.
Meanwhile President of Nigeria Boxing Board of Control ( NBB of C) Dr. Rafiu Ladipo has commended Monarch Promotions for their efforts at taking professional boxing to another level and urged other promoters to emulate the company.
" We at NBB of C are happy with what Monarch is doing to change the face of professional boxing in the countr and if we have two or three such promoters, our boxing wil attain greater heights.
"My appeal is that other promoters and corporate organisations should compliment their efforts and give our boxers not only a sense of belonging but opportunity to get adequate exposure and become world champions", he concluded.