Sports
NFF pumps up Falcons' spirit ahead big Banyana battle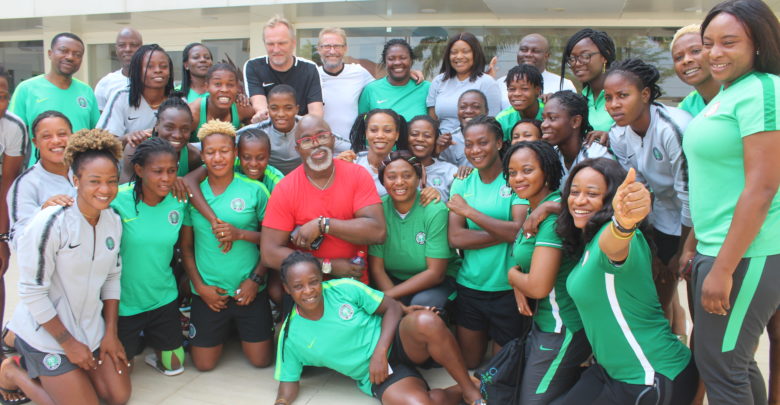 The Nigeria Football Federation has opted to double the winning bonus of the Super Falcons as a big incentive ahead Saturday's 11th Women Africa Cup of Nations Final against the Banyana Banyana of South Africa in Accra.
President of the NFF, Amaju Melvin Pinnick, made the pledge when he met with the players and officials at the AH Hotel, Accra on Thursday, as he delivered the good wishes of His Excellency, President Muhammadu Buhari (GCFR) and the football –loving populace of Nigeria to the Cup holders.
The Falcons had earned $3,000 for a win in the group phase but were earmarked for $5,000 each for victory in the Final.
"I want to let you know that the Government and the good and great people of Nigeria are happy with your performance in the championship so far. They are looking forward to you retaining the trophy by beating South Africa on Saturday.
"Let me commend the lofty commitment, dedication and resilience that you have displayed so far in the championship, alongside that unique Nigerian spirit that was most in evidence against the Cameroonians in the semi final. You are indeed true champions, and we believe you will retain the Cup on Saturday. Go out there and win on Saturday and earn yourselves $10,000 each, as against the $5,000 that the NFF earlier promised."
The two captains, Onome Ebi and Rita Chikwelu on behalf of the team expressed gratitude to His Excellency, President Muhammadu Buhari (GCFR), the NFF, the Nigeria media and football –loving Nigerians at home and in the diaspora for their support to the team, and pledged that they will overcome the Banyana Banyana in Saturday's final in order to return to Nigeria with the trophy.
Ebi said: "We have the World Cup ticket now, which was always our first target here. The second is winning the Cup for a third successive time and ninth time overall. It is a mission we are determined to accomplish on Saturday."
Nigeria defeated South Africa 2-0 in the final of the second edition of the competition in Johannesburg in 2000, to retain the Cup they had won at the inaugural edition in Nigeria two years earlier.