Tribute
Nnanna Okere: Mama's one year with the Lord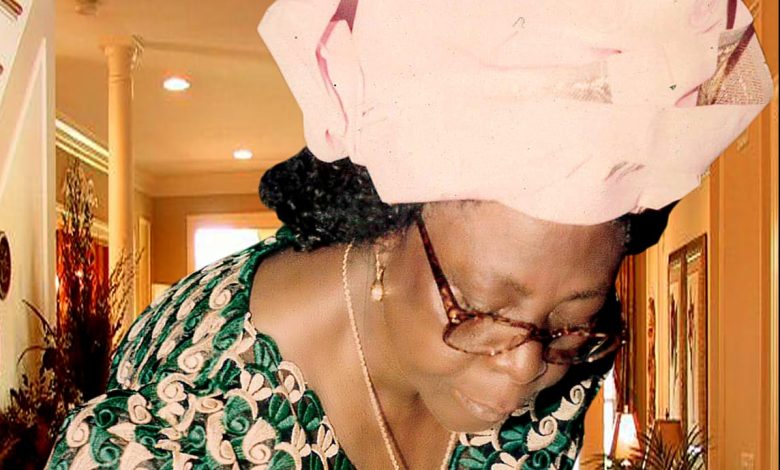 By NNANNA OKERE
 November 6, 2020, will never be forgotten as long as we the children of Ezinne. Cecelia Onyemaechi Okere live. It was a day we felt miserable and have to muster our innermost willpower to have the strength to announce that the matriarch of the Okere family, Mrs. Cecelia Onyemaechi Okere (Nee Anaele) has gone to join her creator. The anniversary of our loving mother's death is a mix of sadness and love. Our mother's death left a hole in our lives, but her death anniversary is meant to bring us her children some comfort.
 The sentiments packed in just a few words revive fond memories of our loving mother on the anniversary of her death. Our experience of grief over our mother's death never ends, we simply learn to live with the pain of her loss. The anniversary of our mother's death is an opportunity both to celebrate her life and legacy as well as re-examine the changes in our life after her passing.
 As we mark the first anniversary of our mother's death it is another opportunity to let her know as she looks down from heaven that we missed her. Mama, we love you; your many acts of love are forever held in our hearts and captured in our minds; your love for all of us made every day brighter; you left a big hole in our lives, but we carry on each day, knowing you're still watching over us; we smile knowing you are in heaven with Dad; May God continues to watch over you and shower you with blessings, Mama; God in His mercy gave us the best mother, and we are grateful for the time we had you.
 May God give us comfort in our sorrow over the loss of our mother. May God show us the way to acceptance of your passing and fill our hearts with His love. We pray for the soul of our dear mother, oh Lord, and that you keep her safe in heaven.
 On this occasion marking one year anniversary of our beloved mother's death, we remember friends and family members who mourned with us one year ago and the encouraging words that were said about our mother.
 Here are the excerpts from the condolence messages we received one year ago:
Dist. Senator Hope Uzodimma, Governor, Imo State
Mama Cecelia Okere, was a loving and caring mother who, through community services, training and upbringing of her children made, positive and remarkable contribution to the development of the society.
Though painful, death is not contrary to the course of nature; it is necessarily a part of human existence and the justifiable end of all mortals.
 Deputy Governor, Prof. Placid C. Njoku
 You people should be grateful to God and be encouraged by her worthy life and the virtuous footprints she left behind. Madam Cecelia Okere was a committed and passionate Catholic who showed deep love for God and humanity. Socially, she contributed greatly towards the growth and development of her community Umuowa, Ngor Okpala Local Government Area of Imo State and beyond.
 Former Governor, Dr. Ikedi & Barr. Chioma Ohakim
 Though painful, her death calls for gratitude to God for the exemplary Christian life which she lived, her service to humanity. As a school teacher during her days, she helped to shape the lives of so many to become successful, a legacy that will stand the test of time.
 Mothers are golden. But there are mothers and mothers. Our own mother, Mama Cecy as she was fondly called was a unique mother of immeasurable value. She was of the stock of that virtuous woman whose portrait King Solomon painted in the book of Proverbs chapter 31.
 Tributes from her children:
 Evangelist. Dr. Ethelber Okere, First Son
 Even in death you are still taking very good care of me. Sleep on, Imela ! Your  'Nwauzoma.'
An affirmation that mother's love and caring endureth forever.
 Dr. Lady Chinyere Ujuwna Okere, First Daughter
 Our ebullient mother was a mother par excellence, a devout Catholic Christian and a mother of celebrities. She lived to be an octogenarian (86 years), a measured blessing from her maker.
 Sir Ikemba Cornelius Okere, Second Son
 As a teacher, you taught us not only in academics but in all aspects of religious, cultural, moral and marital lives. Mama you came into this world saw and conquered. You fought a good fight of faith. Your crown of glory is thus waiting for you in heaven.
 Prof Cleo Okere, Third Son
 You were everything a good mother should be. You gave us everything a good mother would give to her children. You showered your love to your children, to your extended families and to anyone around you. You were loved and respected by all around you. You lived a good Christian life. You touched many lives and changed many lives. Mama you were the epitome of goodwill and love.
 Dr Mrs Ngozi Egejuru, Second Daughter
 I consider myself lucky and blessed to be your daughter. You were exceptionally endowed with this principal thing called WISDOM. You applied it so much and well to mediate and resolve so many difficulties and challenges in the family, in the school and in the church. Mama Cecilia Jonah, you taught me to be calm, even in the face of the raging storm! Your deep wisdom and sharp memory was unimaginable.
 Engr. Austine Okere, Fourth Son
 My lovely mother as a renowned and celebrated teacher you instilled in us discipline, hard work, determination, and made us to be respectful and responsible men and women. We learn family life and tolerance from her. Her commitment and devotion to family were unequalled.
Ochiagha. Nnanna Okere, Last Son
Mama decreased that we might increase. I spent most of my early formation with Mama. I know what she passed through to raise us up. No matter what we have done for her while she was alive and what we are doing for her now that she is no more, she deserved it, my prayers have been God rest her soul in peace. As a Christian I have absolute confidence and belief that Mama made Heaven because she had opportunity to reconcile with God.
 SPECIAL NOTICE
 In remembrance of our beloved mother, we are organizing a memorial church service on 26th day of December 2021 at St Thomas Catholic Parish Umuowa by 9 am. Friends, relations and well-wishers are invited to honour this ebullient woman, teacher par excellence, builder and moulder of men, women and mother of stars.
Adieu Mama!