Politics
Abimbola Davis Tackles Obasanjo's 'Unguided Statement' Over Election, Describing Him As Undemocratic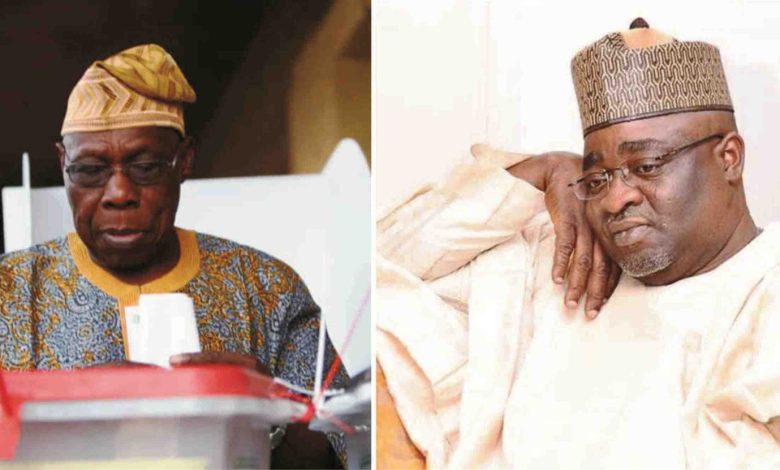 Otunba Abimbola Davis, the Chairman of 'Naija 4 BAT', a group championing the presidential aspiration of Asiwaju Bola Hammed Tinubu has warned the former President, Chief Olusegun Obasanjo to desist from commenting on the electoral process in Nigeria because he's not credible enough to do so, carpeting him for daring to instruct President Muhammadu Buhari and the INEC on what to do.
The Author and Businessman said this in Ibadan while reacting to the statement issued by Olusegun Obasanjo on Monday where he called for the voiding of election results where the BVAS and Servers were manipulated or rendered inactive.
In a statement Monday evening, Obasanjo said results that were brought outside BVAS and Server were not true reflection of the will of Nigerians who had made their individual choice. He therefore said such results must be declared void and inadmissible for election declaration.
Reacting to this, Otunba Davis said Obasanjo is not credible enough to have said that. Saying the former president has made a very irresponsible statement by directing the President on what to do. And again he has desecrated the independence of the INEC by directing them on what to do.
"Obasanjo that should be seen as a statesman is partisan, he adopted Peter Obi as his candidate and publicly campaigned for him, perhaps it could be very painful to lose your ward in such an election, which Obasanjo did. It is only when you know you're losing that a politician makes such a statement. So what is behind Baba's statement? Was it that Obasanjo has gotten an intelligent report on what is going to happen?" Davis queried.
He added that the timing of when Obasanjo made the statement was quite terrible, because he's actually inciting people against the system, saying such statements shouldn't have been made during election, especially when the elections are being counted.
"He ought to have waited for the election to have come up and gone before making his own reaction and not inciting the President against the INEC and against the Public. And we all know as a matter of fact that he hated Tinubu whom we believed he's currently winning presently".
"We all know that Obasanjo does not have any credibility when it comes to the electoral process in Nigeria. He who must come to equity must come with clean hands. He's never a democrat; hence do not have that integrity to order the President and INEC on what to do, that's an infringement because the court of law is there to adjudicate on any matter arising from an electoral process" said the Ibadan High Chief.
He stressed further that "it is worthy of note that the President and his party (APC) lost in Kastina, Tinubu lost in Lagos State and another APC State which is Yobe was lost to the opposition and Gov. Ganduje also lost in Kano State and as a matter of fact lost Osun which is a Yoruba State, yet Tinubu and his team did not complain of rigging or call for cancellation. So what is behind Baba's statement, who is calling chaos?", Abimbola Davis enthused.