News
APC ward congress is open contest -Uzodimma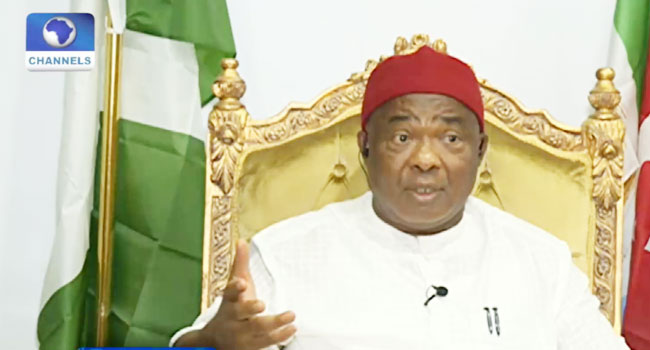 The Governor of Imo State, Senator Hope Uzodimma has reminded members of the All Progressives Party (APC) in the State that the ward congress of the party scheduled for tomorrow, Saturday, July 31 will be strictly based on the party's guidelines that make the process an open contest.
He said the exercise should be devoid of writing and submition of  list of favoured members by party leaders.
He said that the congress must be that of the people and for the people, and that the least that can be tolerated is affirmation of preferred candidates by the people in line with the APC guidelines.
The Governor spoke on Friday at the Government House Owerri, during a stakeholders meeting of leaders of the party drawn from the 27 LGAs of the State.
He seized the opportunity to congratulate the APC leaders for their solidarity and show of interest in the affairs of the party so far, thanking all for the successes recorded in the past one year and the synergy and harmonious relationship currently being experienced in the party.
Governor Uzodimma informed that the APC in Imo State today represents a new order of inclusiveness, poised to work together to win all elections in the State.
He assured of his willingness to deplore his wealth of experience in politics to further grow the party.
He cautioned against what he called structure mentality, warning that if members do not desist from such, it will destroy the party.
 Governor Uzodimma said: ''What the party needs is co-operation of the people to succeed since the task of building the party is the responsibility of every member."
The Governor reiterated that APC is a family, and to sustain that, there is the need to "introduce an integration process that will aid her members to win in every election."
"Therefore for a structure to be worthwhile, it must be controlled and managed by the people."
Concluding, the Governor called the leaders and APC members alike to always encourage the government of the day to serve them better, noting that "there is the need to acknowledge merit and capacity to perform."
In his welcome remarks, the Imo State APC Chairman, Chief  Malcom Nlemigbo, thanked the leaders for their fervent support for the Governor and the APC government in the State.
He poured encomiums on the Governor over his leadership style that has helped  move the party from a "state of comatose to that of progressives" and asked for continued prayers for the Governor.
The Chairman added that the Governor Uzodimma has given, not only Imo people a sense of belonging, but the entire Igbo people. He described the Governor as "a manager of human, material and projects."
Highlight of the meeting was the passing of a motion unanimiusly moved and adopted by the leaders regarding the address of the Governor as a guide to the Ward Congress in the State.