Sports
Basketball: NBBF hits Total E & P jackpot
.Pockets N150m in five-year deal...Sports minister commends oil firm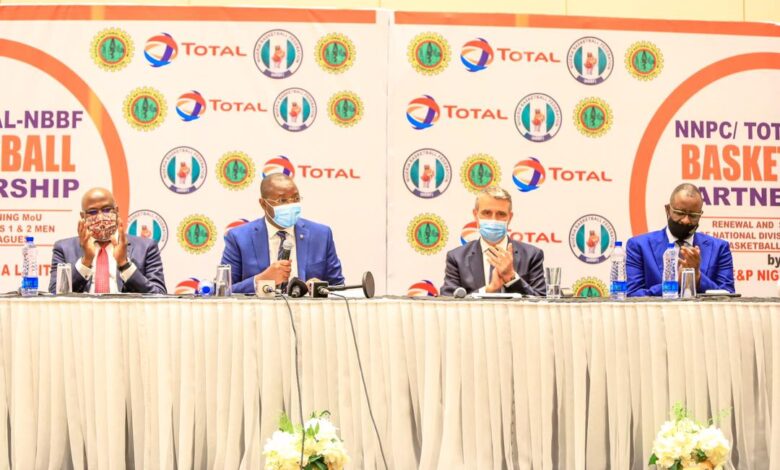 By George Aluo
The nation's basketball governing body, NBBF smiled to the banks today in Lagos after signing a five-year deal with Total E & P worth N150m.
The package is a sponsorship deal that would see Total E & P bankroll the men's Division One and Two basketball league until 2025.
The NBBF, Total MOU which was signed at Eko Hotel and Suites was graced by sports minister, Sunday Dare who poured encomiums on the oil firm for buying into the sports ministry agenda of taking sports to the private sector.
Dare noted that the signing of the MOU demonstrates once again the goodwill  and corporate social responsibility  of Total E&P Nigeria in identifying  with basketball development in  our country. 
In Dare's words: "I sincerely  thank  the Management of Total  E&P Nigeria Ltd for sponsorship of the  National Division 1&2 Men's Basketball  Leagues, which indicates a clear commitment  in the development of the sports of Basketball  in Nigeria. The present  Board of the Nigerian  Basketball  Federation  under the leadership  of Engineer  Ahmadu Musa Kida has made Nigeria proud  with great achievements  at both  National and international levels.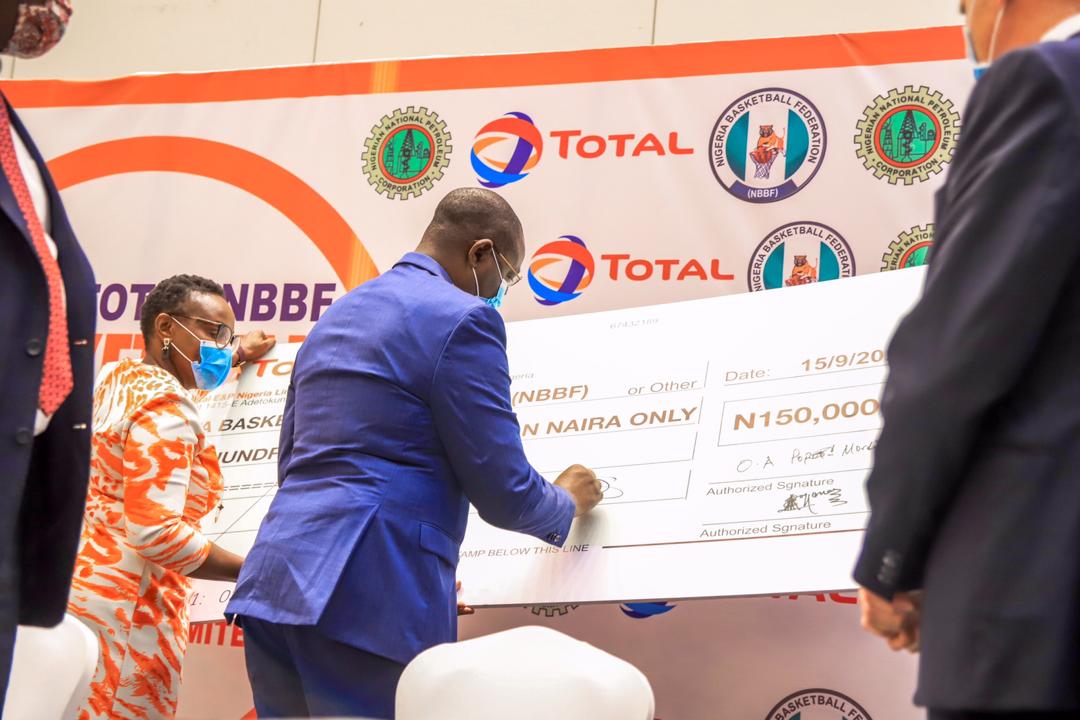 I must commend the board  of the Nigerian  Basketball Federation  for putting  Nigeria as a leading  Basketball  nation in Africa and showing commitment  towards continuously  bringing out the best in the players and also ensuring some level of consistency  in their international  performance. 
I urge the  board to continue  in order to bring more laurels  to Nigeria, exemplified  by the  fact that for the first time in the history of  Basketball, Nigeria  has qualified both the  male and female  National  Teams for the forthcoming  Olympic Games scheduled  to hold in Japan next year. I'm  confident  that Nigeria would do well at the Olympics next year. For now, basketball  is my number sport"
Speaking at the event, The Managing  Director of  Total  E&P Nigeria Ltd Mr. Mike Sangster said the company  was committed  to basketball and  youth development in Nigeria, hence the sponsorship of the  National leagues.
President of the Nigerian Basketball Federation, Engineer  Ahmadu Musa Kida on his part stated: "I want to sincerely thank you for your unrelenting  support towards  the development of  Basketball. Your support has put us in the right pedestal to get our players and technical  crew to the right place. You have really  removed a lot of burden  from the Federations  through  your relentless  efforts to reposition sports"
Kida  assured  that the sponsorship  would outlive his tenure…"Whether I win the next election or not, this sponsorship  would be completely  handed over to  whoever  becomes the  next President of the  Nigeria  Basketball Federation. This is not about me or anyone, but the total development of Nigerian Basketball and our youth."
Kida stressed that Total E & P is not interested in the politics of NBBF and who runs the sports federation but in the development of Nigerian sports.