Sports
Kenyans, Ethiopians dominate Access Bank Lagos City Marathon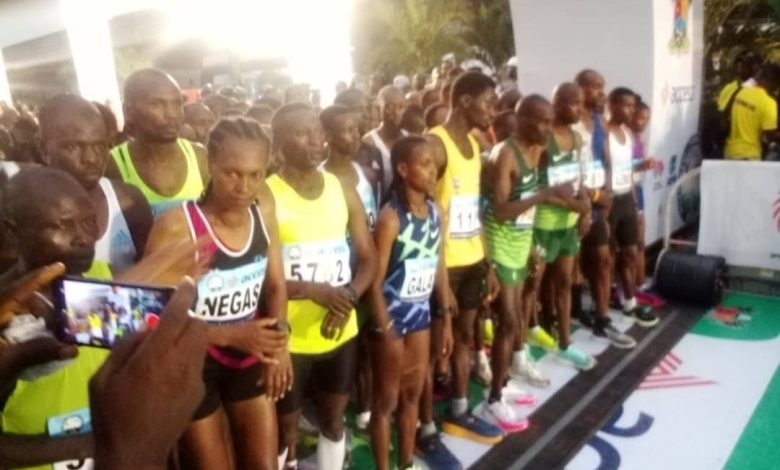 By Ifeanyi Eduzor
The 8th edition of the annual Access Bank Lagos City 42 kilometer full marathon came to a successful end Saturday, February, 4, 2023 with athletes from Kenyan and Ethiopia dominating the race as has always been the tradition.
In the men category, Kenyan Edwin Kibet Koech returned in a time of 2: 14 : 14 to emerge winner while Ethiopian, Miyikuu Xufui came second with a time of 2: 14 : 54 followed closely by another Kenyan Bernard Sang who came third with a time of 2: 17: 14.
In the women category, Ethiopian, Alemenesh Guta took the first position with a time of 2:40:44 followed by her compatriot, Kebene Urisa with a time of 2:40:44 while Kenyan Naomi Maiyo took the third position with a time of 2:40:56.
Kibet who was trailing David Barmasai from the flag off point at the National Stadium, Surulere, Lagos up till the took over the race from Obalande bridge and was unstoppable until he got to the finish line at Eko Atlantic
Also the first Nigerian man to cross the finish line was Gyang Boyi Nyango who did it in a time of 2:: 27: 15 followed by Adamu Shehu Muazu with a time of 2: 30: 52 with Friday Yohana coming third in a time of 2:33:02.
The first Nigerian woman to cross the finish line was old horse Deborah Pam who returned in a time of 2:48:33 followed by Elizabeth Nuhu who finished under 3: 00:20 with Dimatu Yohana finishing in a time of 3:02:12
Speaking to newstap.com shortly after the race Kibet while expressing delight at emerging champion explained that he trained hard for the race with a promise to be in Nigeria next year to defend the title.
"I'm happy winning this race because so many elite athletes participated in the marathon which made it very competitive. Although this is not my best time but I still feel very happy coming up tops and hope to be back next year and defend the title"he stressed.
On his immediate plan, he announced that he's going to take a month rest after which he will discuss with his manager to know the next line of action.
Winner of the race in both male and female categories went home with $50,000 while the first and second runners- up got $40,000 and 30,000 respectively.
The first Nigerian male and female finishers got N3m while the first and second runners- up were N2m and N1 million richer.
There where also prizes for the 4th to the 10th position ranging from $20,000 to $2,000 for the elite athletes while that of the Nigerian athletes ranged from N500,000 to N50,000 for the 4th to 10th positions respectively.