News
Operation keep Owerri clean: Imo waste management agency gets refuse trucks, buckets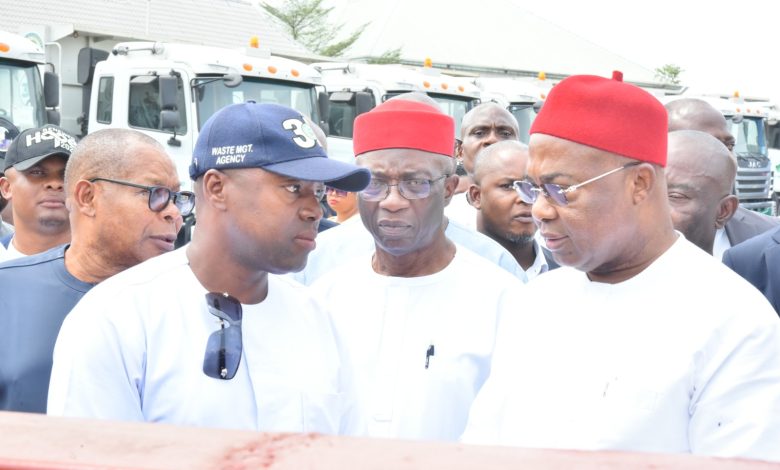 Photo: Imo State Governor, Senator Hope Uzodimma (right), his Deputy, Prof Placid Njoku (middle) and the General Manager, Imo State Waste Management Agency, Barr Kelechi Emeakaroha, during the commissioning of Waste Management Trucks and waste disposal bins at the Government House Owerri…Tuesday.
By George Aluo
The task of making the Imo state capital, Owerri a clean city has received a boost.
The Imo state government in a bid to achieve this has procured new refuse trucks and waste disposal buckets for the state's waste management agency (ISWAMA).
Handing over the trucks to ISWAMA on Tuesday, the state governor Senator Hope Uzodimma warned that it is not going to be business as usual for defaulters who indiscriminately dump refuse on the road.
 The Governor said it is both disgusting and unbelievable that residents deliberately dump waste and refuse on the roads and streets even when there are disposal bins to do so, and advised all residents to desist forthwith from such despicable act or be ready to face the consequences.
Nine Refuse Trucks and five Waste Disposal Buckets were handed over to the Imo State Waste Management Agency (ISWAMA).
 In his brief remarks  during the presentation, the Governor said the procurement of the equipment is an improvement on the already existing ones being used by the Agency in carrying out its duty to return Imo State to its glorious days of being regarded as one of the cleanliness States in the Federation.
 He asserted that "by the efforts of the Agency the State Capital and its environs have been gradually getting cleaner though it is still work in progress."
As a way of supporting the Agency he assured that his government will make available all the necessary tools needed for them to maximize the cleanliness of Owerri and other parts of the State.
Governor Uzodimma promised that "soon, through legislation, ISWAMA will be granted autonomy to enable them generate their own revenue and resources and be able to maintain the items and equipment they are working with."
He then reminded Imo people that soon they will be paying for the wastes they generate and dispose in the waste trucks and buckets for value addition.
Governor Uzodimma proceeded to commission the trucks and the waste buckets.
Earlier, the General Manager Imo State Waste Management Agency (ISWAMA), Barr. Kelechi Emeakaroha thanked the Governor for providing them with the equipment and promised that they will put them to good use to achieve a cleaner environment for Imo State.
Those who witnessed the commissioning were the Deputy Governor, Prof. Placid Njoku, the Secretary to State Government, Chief Cosmas Iwu, the Chief of Staff, Barr. Nnamdi Anyaehie and members of the State's top functionaries.