Religion
Pope Francis Creates Catholic Diocese of Aguleri, Appoints Bishop Denis Isizoh As The First Bishop.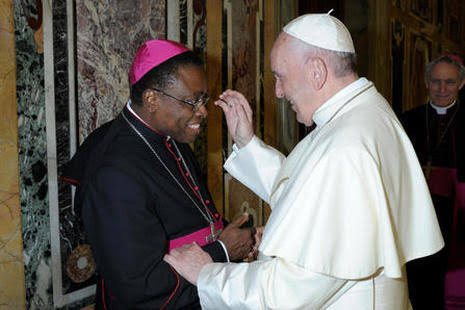 Photo: Pope Francis (right) with the new Bishop of Aguleri, Denis Isizoh at the Vatican.
Pope Francis has announced the establishment of the Catholic Diocese of Aguleri  and appointed  Bishop Denis Isizoh the Diocese's first Bishop.
The erection of the new Catholic Diocese in Nigeria and the appointment of the pioneer Bishop of the new Episcopal See was made public by the Holy See Press office on Sunday, February 12.
The Diocese of Aguleri has been carved from the Archdiocese of Onitsha, making it suffragan of the Metropolitan See of Onitsha.
Until his appointment as the new Local Ordinary of Aguleri Diocese, Bishop  has been serving as Auxiliary Bishop of Onitsha and Titular Bishop of Legia.
Born in 1956 in Ogbunike in the Archdiocese of Onitsha, the Bishop was enrolled for his Philosophy studies at Bigard Seminary ( philosophy campus) Ikot-Ekpene from 1976 to 1980 and for his Theology studies at Bigard Memorial Seminary in Enugu from 1982 to 1985.
He was ordained a priest on 28 September 1985 for the Archdiocese of Onitsha.He was consecrated a Bishop, May 1, 2015.
As a priest, the bishop served in different capacities, including Parish Vicar, Chaplain for Schools, and formator at All Hallows Seminary, Onitsha. And official Pontifical Council  for interreligious Dialogue,  Vatican City ( 1995 – 2015), among other Priestly responsibilities.
Bishop Denis had his  Licentiate at the Pontifical Biblical Institute in Rome between 1989 and 1993.