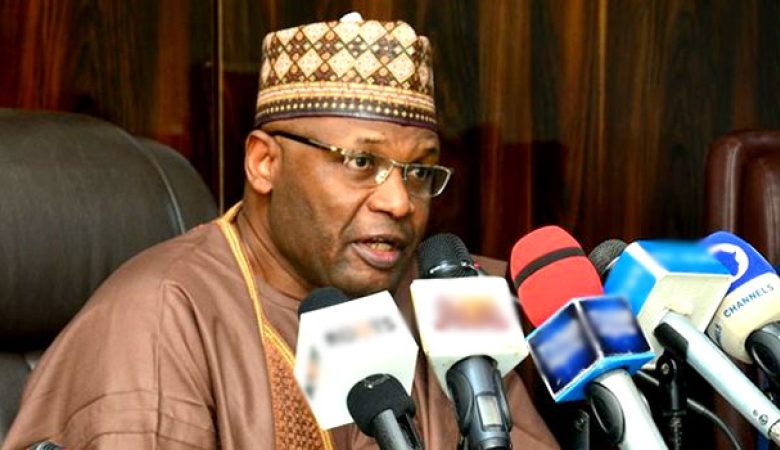 Photo: INEC chairman, Mahmoud Yakubu
By Adeze Ojukwu
Despite assurances from Nigeria's top-tier security hierarchy and Independent National Electoral Commission(INEC) the recent gubernatorial and House of Assembly elections were marked by horror and terror.
Though, the commission exhibited more tact in use of Bimodal Voter Accreditation System (BVAS) INEC's Results Viewing Portal (IReV) to upload some of the results, preliminary findings indicate that the last exercise witnessed was worse than the February polls. As a result, elections were postponed in some polling units in Lagos and some other areas.
Social media is awash with live streaming of attacks on voters. Images of bloodied faces and bruised bodies featured in many videos and television broadcasts.
It is quite distressing, that the billions of tax payers money and energy deployed towards ensuring a free and fair election, were mere efforts in futility.
The disruptions and pandemonium witnessed in many centres, are clear evidence that this year's election was a charade.
Undoubtedly, glaring failings of INEC and other authorities, combined to scuttle the process.
As a result, the presidential election is not only being disputed by some political parties, but is reviled in international circles.
A country that displays such recklessness and lawlessness deserves nothing, but denigration.
With respect for rule of law, as the locus of modern civilization, no responsible government can afford to subdue its citizens or their privileges.
The world has little or no sympathy for undemocratic authorities, as seen in some African and Asian continents.
In verity, the terrible violations that affected the election, were part of an agenda that were orchestrated, several months, ahead of the polls.
For instance, thousands of Personal Voters' Cards(PVCs) were seen in unauthorized places, such as forests, gutters and open fields, before the elections. Meanwhile, some INEC officials offered flimsy excuses for alleged irregularities in distribution of PVCs.
Several questions remain unanswered. Why did security officials fail to prevent armed individuals from invading polling centres?
Why were certain persons, who were seen in videos, actively frightening political opponents not arrested?
A nation, where certain individuals, seem larger than state institutions, is a failed state.
Therefore, one can easily conclude that the 2023 election, was just, as perverted as previous ones.
The noise and drums of war were similar and familiar. Tension was everywhere. Armed men appeared. Commotion took over. Voters scampered for safety. Peace was gulped by pandemonium. Joy was swept off by sorrow. Blood and tears soaked the ground. Cries and wailings bellowed. Knives and stones wrecked havoc. Then came the army collected the booty. Victory was easy. It was a well-rehearsed mission. The executors were effectively trained and mobilized for battle.
Many thought it was impossible. Others dismissed it as a joke. But it was not. Remember this is Nigeria, Africa's giant. The odds always prevail in this land of anomy!
Just like the Ides of March referenced in William Shakespeare's popular play, Julius Caesar, the 2023 election has come and gone, but its convoluted and perverted execution, will remain a major issue in the nation's annals and media sphere. As usual, violence was the common currency. Threats and attacks were strategically deployed, as lethal weapons for assured victory.
Based on emerging facts and gamut of circumstantial evidence, state agencies and officials were accused of aiding desperate politicians to pollute and sabotage stipulated laws. Thus, the gubernatorial election followed the same ruthless route.
For most of these desperate politicians, election is war. This notion is antithetical to most Nigerians, who believe that "election is not a war."
Therefore the legitimate and sacred duty of accredited voters to choose the leader can not be subverted, without resistance from the citizenry.
Indeed, any action to truncate this freedom, which is clearly scripted in the 1948 United Nations(UN) Human Rights Declaration, would be calamitous.
Though Nigeria, ratified the Charter in 1985 and is a party to many human rights Conventions, some presidents and former military rulers, flagrantly disregard human dignity and freedom.
This reprehensible repugnance, is perhaps the most obdurate cause of electoral fracas.
Virtually, all states across the country, including Akwa Ibom, Yobe, Kano, Nasarawa, Anambra and Imo witnessed irregularities and skirmishes.
However in Lagos, the contention was vicious and virulent.
What played out in many areas, within the metropolis was very shameful and barbaric.
Images of the gory incidents that occurred, in some polling units in Lekki, Victoria Garden City(VGC), Ajao estate, Okota, Surulere were quite bizarre.
Some victims complained that they were attacked by hooligans, brandishing knives, bottles and lethal weapons.
The unfortunate ones were beaten by the touts, who stormed specific polling units, because of their political preferences and ancestry.
Some of them were dispossessed of their phones and money during the mayhem.
What is most baffling about this, is that security agencies were notified about these flashpoints, several weeks before the elections.
Some politicians and their followers were frequently attacked in rallies and markets, by members of All Progressives Congress(APC).
The video of the lady, who was stabbed on the face, is still a major reference point.
The Akere spare parts market at Olodi-Apapa, Ajegunle, was completely and ruthlessly razed down by suspected political thugs.
Then came the controversial Oro festival, which was scheduled to end on Saturday, the gubernatorial election day. The ceremony, was heavily criticised by many Lagosians, because of security and political concerns.
Traditionally, the cultural show, often involves restricting movement of females and non-indigenes, for customary reasons.
But this restriction is an infringement, as it negates the principle of freedom of movement by citizens.
But most importantly, the event was perceived by many, as a ploy to threaten perceived opponents of a party.
In Nigeria and similar jurisdictions, where superstition is rife, this kind of observance can frighten some individuals, especially, non-natives, due to effigies and fetish items, placed in public areas, after the ritual.
This can, indisputably lead to voter suppression and disenfranchisement of voters, according to a report by a coalition of Civil Society Organizations (CSOs) led by Ene Obi.
While the police chiefs were quick, to douse the tension that was triggered by the cultural show, they were unable to deflate the uproar triggered by alleged threats against Igbo residents by Chairman of the State Parks Management Committee, Musiliu Akinsanya popularly called MC Oluomo in a viral video.
Initially, the state police spokesman Olumuyiwa Adejobi, dismissed the threat as a joke, but Lagos State Commissioner of Police, Idowu Omohunwa later confirmed that "the specific video, is currently a subject of a detailed investigation."
This is not the first time this individual has been caught on camera blathering vituperation against Igbo people. A notable traditional ruler in the state, was also accused of threatening to throw the Igbo residents into the Lagos Lagoon, some years back.
All forms of ethnic profiling and inciting people to assault other citizens, through ethnic profiling or gender discrimination should be condemned.
The perpetrators deserve punitive action, because of the dangerous consequences of such crimes.
Rwanda and some other countries, were plunged into war and genocides, due to similar atrocities.
The abysmal performance at the this year's polls, represents the colossal failure of the country and its administrators.
Indeed, it reflects the humongous anarchy, that is steadily asphyxiating the nation.
Certainly, this controversial election calls for urgent and thorough investigations.
This country must be seen as a society that values the lives and livelihoods of all citizens.
Every human life is precious and must be protected, irrespective of class, creed or clan.
•Ojukwu is a journalist, author and Fellow of Hubert H. Humphrey Fellowship, a US sponsored Fulbright programme. She is an advocate for the implementation of the Sustainable Development Goals(SDGS). Please kindly send feedback to [email protected]