Sports
World Junior Swimming Championships 2023: Israel's top swimmer on cloud nine over hosting right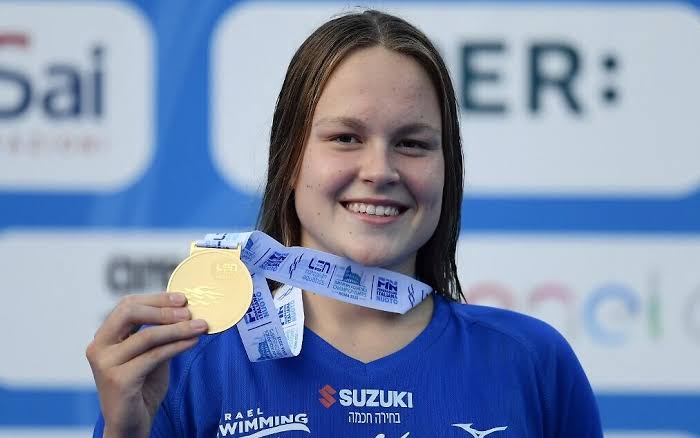 By George Aluo
Israel's Olympic swimmer and double gold medallist at the World Swimming Championships (25m) Abu Dhabi 2021, Anastasia Gorbenko has expressed delight in hearing that her country will host the World Junior Swimming Championships later this year.
Gorbenko in an interview granted World Aquatics media said she takes pride in the fact that the prestigious World Aquatics event is coming to Israel for the first time.  
In her words…"Coming from Israel, it's pretty cool to hear that Netanya will hold the World Aquatics Junior Swimming Championships," Gorbenko said. "I take pride in hearing that my country will host this major event.  
"As a junior swimmer, I was focused on getting faster, seeing where I stack up against the world's best at your same age and travelling the globe. What is even better is the opportunity to show your friends and competitors the place where you call home. I'm sure the athletes will enjoy competing in Netanya as well as find some fun outside the pool in this beautiful, sports-loving city." 
The most recent edition of the World Junior Swimming Championships was held last year in Lima, Peru. The event saw a number of world-class performances which included athletes setting nine new World Junior Swimming Championship records and one World Junior Record in the Peruvian capital. 
Among those carving their names into the record books were reigning 200m freestyle World Record holder David Popovici of Romania, setting a Championship Record in the same event and Diogo Matos Ribeiro of Portugal, securing a World Junior Record in the 50m butterfly.  
The World Aquatics World Junior Swimming Championships were first held in 2006 in Rio de Janeiro (BRA). Subsequent editions of the biennial event followed in Monterrey (MEX) in 2008; Lima (PER) in 2011; Dubai (UAE) in 2013; Singapore (SGP) in 2015; Indianapolis (USA) in 2017; Budapest (HUN) in 2019; and Lima (PER) in 2022.